Uncle Loo returned to the Lord on Monday March 6th at a good old age of 82.  Uncle Loo attends our chinese church at Renewal Lutheran Church PJ. Last Year May 2016 Uncle Loo's daughter asked me to help with a mother cat and two kittens that came to their house and uncle Loo wanted to help the mother cat and the kittens. I was very touched by his kindness towards the animals as in Proverbs12.10  said .The righteous care for his animals.
So I and Sis Saw Har were busy about this matter, sending the mother cat to be spayed, and the kittens to be adopted. Praise God in three weeks, the kittens were adopted(read the may 2016 post, kittens adopted Oreo and Felix)  and the mother cat was returned to Uncle Loo who was very delighted to have mother cat back.
I was told that Uncle Loo continued to love Meow Meow and was very happy that the cat was there for him when he was not well. On the second day of Uncle Loo's departure, Sis Saw Har sent me this picture which touched my heart. Mother cat Meow Meow missed Uncle Loo and cuddled herself at Uncle Loo's sandal. Yes , animals do have feelings too. Sis Saw Har comforted Meow Meow and told her that Daddy is fine in heaven free of pain and eternity with our Lord Jesus. Enjoy this picture below.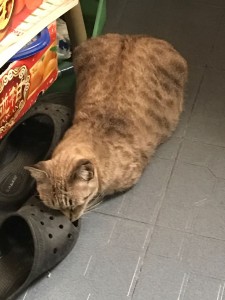 Meow Meow finding comfort in Uncle Loo's sandal.
May the Lord comfort Meow Meow too.